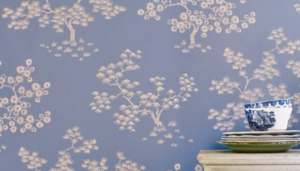 In this job I recommend a lot of products to clients. A lot of them bring joy to their owners. It might be that they are innovative, or be brilliant value for what they are, super comfortable perhaps or simply very beautiful, elegant or well made. For some reason they stand out and are right for a brief and a home.
Here's my list of 13 that I've recommended over last 6 to 12 months. It was going to be 10 for symmetry but I couldn't help sneaking in a couple more.
Here goes, in no particular order… Hope you like. (Oh, and a lot of them are on sale currently).
1. The Robin Day 675 chair in walnut and black is a wee slip of a desk chair but supremely comfortable. It's a design that's come back from the past and its current iteration has been around for a few years. I came across it when looking for the perfect chair for a small study and I'm told it's the owners happy place all day long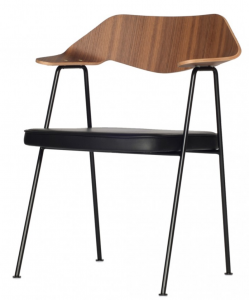 2. Bedding from The White Company. The most comfortable I've ever found. We've all heard the 'you spend 30% of your life asleep so buy the best' quote. It seems worth it to me. There are load of ranges but they focus on being smooth and cosy, they wash well and just feel nice against your skin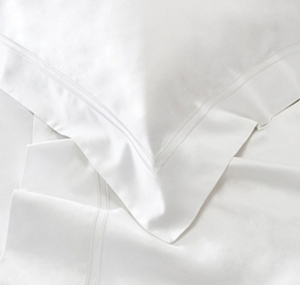 3. The Penfold pouffe from Swoon editions is a really cute little piece. Rich, clean colours and it's velvetty yet firm to park on for a while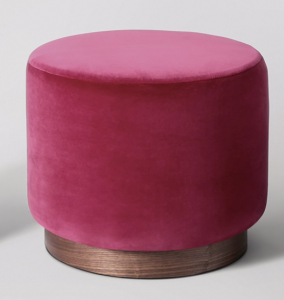 4. Also from Swoon editions, a client is happily in love with his mango wood Herning sideboard. It's sold out now but like a lot of Swoon's products, it looks classy and has nice proportions. The mango wood has a antiquey texture and grey, black and brown tones through it. A winner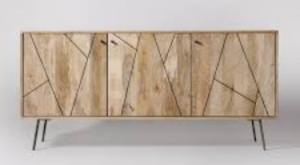 5. For a long wooden hallway I recently recommended the Poppy field runner from French connection. It's pink and black tones make it really warm and the pattern isn't too busy. Ideal for a classy older home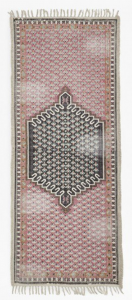 6. Carpet. A slightly less interesting area perhaps but there are carpets then there are… CARPETS. A couple I was working with bought the Vellutto Lusso carpet in the whitest cream for a bedroom. I tried it in the store found out how beautiful it was to walk on. Luxurious. The clients hadn't indulged like that before and are very happy they did. It feels like walking on silk with lots of cotton wool under it.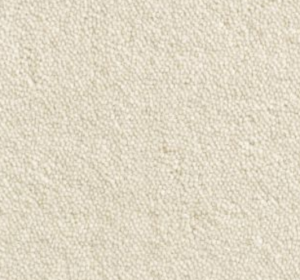 7. The Stockholm mirror is something we bought too having seen how great it looked in a client's flat. It's a great size, 80cm diameter, with a very crafted-looking wide rim. The lower part of the circle has a mini shelf wide enough for keys nd phones. Just a crazy bargain at £75 (it was £60 until recently… maybe IKEA have fully realised how great it actually too). Everyone should have one. Oh, wait a minute. That's not right…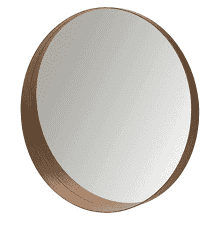 8. Finding the right sofa for the room is a tricky but very worthwhile exercise. For a client's large open plan seating area I put forward Sofa.com's long island sofa having tested out a lot. It is massive. Your feet won't touch the ground. It is deeeeeep with a capital deeeee. He wanted something the whole family could fit on and it definitely delivered on that. Lush. His is deep turquoise. A very beautiful, cool colour which went well with the modern grey, black and white toned kitchen and diner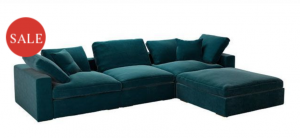 9. Farrow and Ball's All White paint. This one is just a winner and our go to white now. It's definitely possible to get a bit caught up in shades of white when renovating. Sometimes for good reason, but a good allrounder is worth having on your team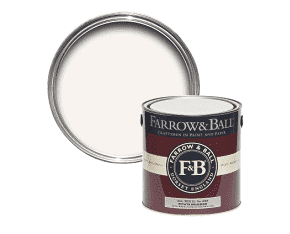 10. Finding art was part of the job for one client. In a new and high end home, simple photos with calm tones felt right. The owner travels a lot so I chose this print called Ocean Noise by blacklist.com.au
11. Bert and May make a wonderful selection of hand made tiles, individually crafted with natural pigments by artisan makers and cured in the Spanish sun. These blue and white handmade tiles are designed by the Conran Shop and are cleverly simple. They can be used to create something bespoke as the differently designed tiles work like building blocks. These are on their way to go in a bathroom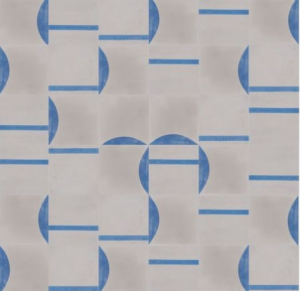 12. The second to last thing on my list and also in the blue corner is Kyoto, a wallpaper from Fired Earth. It's the lushest shade of chalky blue and features a delicate trail of Japanese black pine. It's been bought to use in a bedroom and it's going to make the room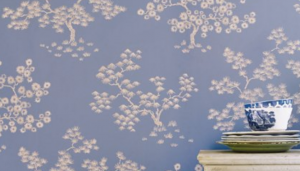 13. Finally the chandelier by Tom Raffield is something very special indeed. Lighting trends really dig in and they have done something different here. It's almost a bit medieval, something you'd find over a long banqueting table but it just brings a lot and is a dream piece to have. I'm saying yes. This is with a client and I haven't seen it up yet. Good isn't it.