KITCHEN DESIGN
We also design kitchens from scratch, working with local suppliers for construction works, supply and fit.
Your situation:
You would like to start again and rethink your kitchen. You'd like some help on where to start, what the options are, how a new layout could work and what materials / finishings feel right. You need to know how to get this done, who with and what it would cost.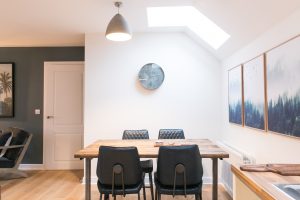 How it works:
We arrange a consultation your home talk it all through and understand more about your likes, dislikes, needs and style. Photos and measurements are taken. We then send you a quote and once approved we work on the following, which is presented back to you a few weeks after.
We produce a document which includes:
2 x concepts
ideas for specific challenges
layout ideas
ideas for all surfaces / lighting etc.
run through of this and a few amends
communications with trades people to scope it out
then, as a second stage:
3D drawings
pricing and stockists
So, essentially it would give you everything you need to start work on your new kitchen.
Cost:
£1200
What's the next step?:
Please
view
our calendar to
set up
a 15 minute call to help kick off the project. We look forward to hearing from you and helping you get started.